5 Reasons to Choose OutPost Now!
The OutPost Sentinel Difference!
In today's technology landscape we see many customers using a variety of communication and network technologies to keep their business running at peak performance. Therefore, it is important to look to a partner that will help you manage the mix of new and legacy equipment on multi-vendor platforms.
That partner is OutPost Sentinel! When other tools cannot, OutPost will provide a secure access link to your equipment on site; even in the event that the network is down or not available, you need power control or when supporting legacy equipment. Recognize a more efficient, reliable and higher quality IT. Through a variety of skill sets provided by OutPost services, we can be the ultimate compliment to your technical team. Reduce down time and supplement your workforce during times of peak need or during vacation scheduling and never miss an SLA at a fraction of the cost of a direct hiring, by partnering with OutPost.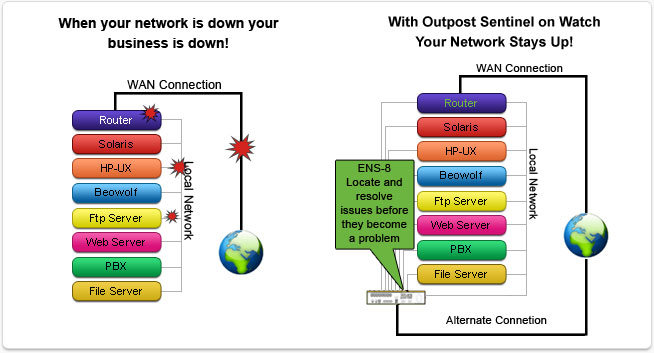 Contact us @ 24 x 7