RMM Tools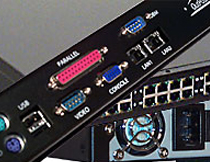 State of the art console management products, complete with Access Control Lists, audited trail, always on non connect port buffering and in network SNMP reporting and OBM monitoring, access and reporting. Accessing, automating and troubleshooting your devices has never been as complete or as easy.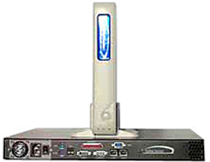 The OutPost family of products is engineered specifically for Secure Remote Emergency Network Administration, Console Access and Management Applications. Equipped with Remote Secure Shell (SSH V1, V2, V3) for both in-band and out-of-band Serial RS232 requirements. Using DHCP and TFTP, to configure this unit, makes getting on the network a breeze. ENS-16 port and ENS-32 port are enterprise level network administration solutions.
See descriptions below of:
Key Benefits
Easy Access is afforded to all users. A System Administrator can immediately access the necessary equipment via Encrypted TCP/IP methods, modem or straight RS232 Access with by-port Authentication. Multiple Users can access ports simultaneously for emergency or training purposes.
Security is assured using SSH Version 3. Each port is individually configurable providing Login challenges to ensure Remote Authentication. Users Access Privileges are individually defined and scalable for multi-tiered access requirements in Data Centers and Co-Location Facilities.
Life Signs Sentinel Monitoring Benefits include the ability to display failure messages even after a mission-critical Network Element has collapsed or failed. SNMP and Syslogging round out the ability to keep administrators informed of Network Health.
ENS-8 Connections:

8 Dedicated Ports
A/C Power Connector
COM1 - 16550 UART OBM Port
Sound input/output jacks
VGA Connector
COM2 - 16550 UART Modem OBM Port
USB Port for USB Options
Parallel Port for Parallel Options
RJ45 - 10/100 BASET Ethernet Port
PS/2 Keyboard Connector
PS/2 Mouse Connector

ENS-16

Enterprise Network Specialist
Dual 10/100 BASE T Ethernet
Enterprise 1U rack mount solution, in rack flash upgradeable

ENS- 32

Enterprise Network Specialist
Enterprise Level Command Center Software
Enterprise 1U rack mount solution, in rack flash upgradeable
Port Commander, Life Signs Sentinel, Eadmin and Secure Sentinel are software products included with the purchase of any ENS product.
How can I easily manage thousands of different devises spread out over a thousand locations? OPS Command Center Software is an enterprise level software management tool that can be purchased as an add-on.